PSNI granted more time to question man over double murder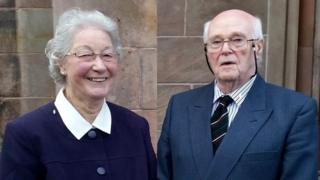 Police have been granted extra time to question a 40-year-old man arrested in connection with the murder of an elderly couple in County Armagh.
The man was arrested in the Springfields area of Portadown after the murder of Michael and Majorie Cawdery on Friday.
The couple, both 83, were found in their Upper Ramone Park home in Portadown by a relative.
Police said they had been killed in a "very brutal attack".
They are reported to have been stabbed.
The extension was granted by a court on Sunday.
Police have said their enquiries are ongoing.
In a statement, the Cawdery family described the couple as "wonderful people" and their murder as "awful and incomprehensible".