Portadown murder victims 'devoted' to each other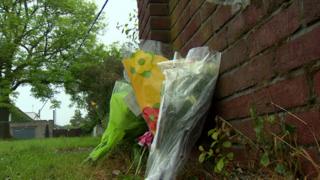 A couple who were murdered at their home in Portadown, County Armagh, were "devoted to each other," their local minister has said.
The bodies of Marjorie and Michael Cawdery, both 83, were found by a relative on Friday.
Rev Gary Galway said Mrs Cawdery was "very quiet," while Mr Cawdery was "more talkative".
"They were devoted to each other, a lovely couple," he said.
He said their family was "trying to deal with this horrific act that has taken place".
"It's not easy for them, it's less than three days ago. They are struggling to come to terms with it."
Police have been granted extra time to question a 40-year-old man arrested in connection with the case.
They said the couple had been killed in a "very brutal attack".