Disappeared victim Seamus Ruddy repatriated from France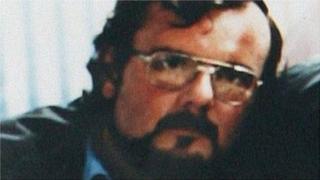 The remains of Seamus Ruddy, one of the Disappeared victims, are expected to be repatriated in Dublin later.
His body was found near Rouen, in Northern France, last month.
Mr Ruddy, 32, from Newry, County Down, was abducted from Paris then murdered and secretly buried in 1985 by the Irish National Liberation Army (INLA).
The body will be released to the Ruddy family after being received by a coroner at Dublin City Mortuary.
His sister, Anne Morgan, said: "We have waited over 30 years to get Seamus home and to lay him to rest.
"We never gave up hope despite some very dark times and now our prayers have been answered."
Mr Ruddy's funeral will take place on Saturday 17 June in Newry.
Mr Ruddy was one of 16 people known as the Disappeared, who were murdered and secretly buried by republicans during Northern Ireland's Troubles.
The INLA admitted responsibility for the killing 10 years after Mr Ruddy's death.
But the search that uncovered Mr Ruddy's remains was only possible after new information was passed to the Independent Commission for the Location of Victims Remains (ICLVR).
Ms Morgan thanked the ICLVR for their work on the case as well as the French authorities, but appealed for information regarding the three outstanding Disappeared cases: Joe Lynskey, Columba McVeigh and Robert Nairac.
"There are now three families who are waiting for the news that we received on 6 May," she said.
"I hope and pray that their torment will end."