Belfast police injured after stolen car is driven at them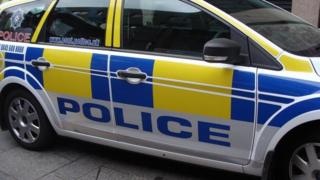 Police in west Belfast have issued an appeal after a stolen car was driven directly into them.
The police vehicle was damaged in the incident, which also left multiple officers with minor injuries.
It happened in the Albert Street area of the city in the early hours of Tuesday.
Officers were responding to reports of a car being driven erratically. They now believe it was stolen shortly beforehand in Newtownabbey.
Sgt David Mahood said: "Just before 03:00 BST we received a report that a black Audi A1 was being driven erratically in Albert Street.
"The car had been previously stolen in a creeper-style burglary in the Enniskeen Avenue area of Newtownabbey.
"When police arrived at the scene, the car was driven directly at our vehicle, causing damage and also minor injuries to a number of officers.
"The driver of the Audi made off on foot and was pursued by police, but managed to escape."
The PSNI has appealed for anyone with information about the incident to contact them.