John Dallat's 'nasty experience' as car attacked in Kilrea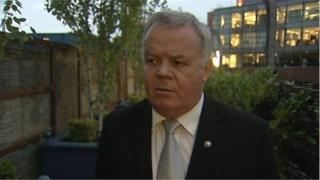 The SDLP MLA John Dallat has said he was left shaken after he claims a group who had been watching a loyalist band parade in Kilrea attacked his car.
It happened on Friday at about 20:50 BST, after he had picked up a takeaway meal in the County Londonderry village.
Mr Dallat said the group surrounded his car on Main Street, hit its windows and shouted at him while taking photographs.
The East Londonderry assembly member described it as a "nasty experience".
He said he still has not recovered from the incident, which he emphasised was not reflective of a town that he is "extremely proud of".
In a statement the PSNI said there were officers "in the vicinity at the time due to a band parade taking place, and were able to assist in resolving the incident".
Mr Dallat claims that after he returned to his car he was "surrounded by what might be described as a mob armed with mobile phones taking pictures of me, battering on the windows of my car".
The SDLP MLA said the ordeal went on for about 20 minutes.
"For the first time in my life, despite a past that was often threatened, I dialled 999 and in a very short time, the police came.
"I am most grateful to them for rescuing me.
"Kilrea is a town I'm extremely proud of, where respect for diversity is acknowledged by everyone and I'm sorry that it happened there because that's not the image we have," he said.
'Respect for different cultures'
Mr Dallat said that he was "quite bewildered" as to why the incident took place.
"I was doing what many parents, or grandparents do on a Friday night and that is to collect some hot food and share it out with the family. That's my wind down on a Friday.
"I thought we were past all of this, I thought I was free to go to my own town without being intimidated," he said.
"This is a step back for me as I've spent my whole life trying to encourage moderate politics and respect for different cultures, and I'll continue to do that," he added.