Windows damaged by fire yards from Belfast homes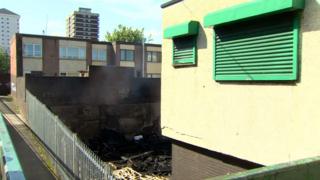 A number of windows have been broken at houses in the New Lodge area of north Belfast, after bonfire material was set on fire just yards from family homes.
The blaze, at the back of a row of shops on Pinkerton Walk, was reported to the Northern Ireland Fire and Rescue Service at about 13:35 BST on Sunday.
Residual heat from the fire caused windows in nearby houses to crack.
It is thought the wood was being stored for a planned bonfire to mark the anniversary of internment in August.