Arsonists 'destroy' former Newtownabbey High School site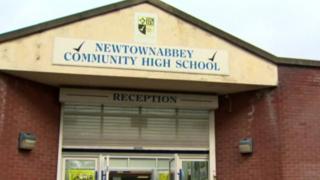 Extensive damage has been caused to a disused school in Newtownabbey, County Antrim, by vandals who set fire to the site and stole building equipment.
Firefighters and police were called to the blaze at the former site of Newtownabbey Community High School at about 16:15 BST on Saturday.
Mobile classrooms were badly damaged at the Rathcoole Drive site, police said.
Ulster Unionist representatives said the vandals had "managed to destroy the facility".
The party said the attack had denied local people access to "a community asset".
'Senselessness'
Newtownabbey Community High School was closed in 2015 when it merged with Monkstown Community School to form a new school on the Monkstown site, called Abbey Community College.
The UUP's North Belfast spokesperson, Robert Foster, said that for some time, his party has been lobbying the Education Authority to "allow the local Rathcoole community to make use of the premises" until a decision is made on the long-term future of the site.
"My feeling is one of absolute frustration at the senselessness of this act." Mr Foster added.