Belfast street party inspired by late MP Jo Cox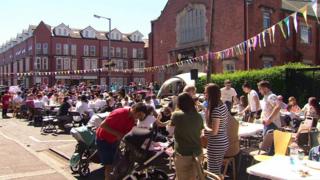 Hundreds of people have attended a Belfast street party celebrating diversity, as part of a UK-wide series of tributes to the late MP, Jo Cox.
The Labour MP was murdered a year ago this week in her Yorkshire constituency of Batley and Spen.
The Great Get Together campaign, aimed at helping to integrate diverse communities, included about 120,000 events in her memory across the UK.
The Belfast street party was held in the Holyland area on Sunday afternoon.
It featured a Chinese dragon dance and an open house event at the Muslim Family Centre.
South Belfast is one of the most diverse constituencies in Northern Ireland and the Holyland is home to a large student population.
The sun shone brightly as participants shared food and experiences outside the City Church Belfast building on University Avenue.
"It's really important to have something like this, that celebrates people coming together - diversity of population," one woman told BBC News NI.
"This is the UK I want to be part of."
Nationwide gatherings were inspired by Mrs Cox's maiden speech in Parliament, when she said "we have more in common than that which divides us".
Organisers of the campaign hoped the tributes to the late MP would result in the "biggest community celebration the UK has ever seen".