Manchester bomb: Belfast man in court over Facebook message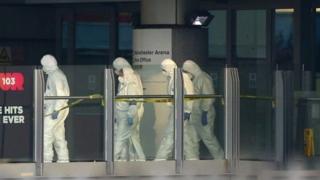 A teenager has appeared at Belfast Magistrates' Court, charged with using a public electronic communications network to post grossly offensive material.
Kevin O'Neill, 19, from Cliftonville Road, Belfast, spoke only to confirm that he understood the charge.
He was arrested in May in connection with material posted on social media about the atrocity in Manchester.
His lawyer asked for time to consider the paperwork in the case.
Mr O'Neill is due back in court on 3 July.