New enterprise zone to be launched in Coleraine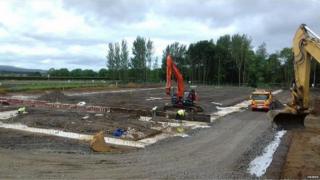 Northern Ireland's first new enterprise zone, in Coleraine, County Londonderry, is to be officially launched.
Enterprise zones already exist elsewhere in the UK and offer businesses tax incentives and simplified planning procedures.
The Coleraine zone, called Atlantic Link, covers a 40-acre site adjacent to the Ulster University campus.
Northern Ireland previously had enterprise zones in Belfast and Londonderry in the 1980s.
The anchor company is 5NINES, which is due to open a data centre on the site in January 2018.
Data centres of the sort being developed by 5NINES do not in themselves employ many people.
But what it could do is encourage other firms, particularly those focused on cloud computing, to set up nearby.
Another attraction is that the zone is just a kilometre away from the landing point of a transatlantic fibre optic cable.
The zone was first announced in 2014 by the then Chancellor George Osborne.
The key attraction is 100% capital allowances for plant and equipment - that means companies can deduct the value of the capital item from profits before paying tax.
There were doubts about the effectiveness of the previous enterprise zones in Northern Ireland in the 1980s.
Critics said they mainly led to existing businesses shifting location rather than bringing in new business.