Newspaper review: 'Swedish model' entrapment, PFI scandal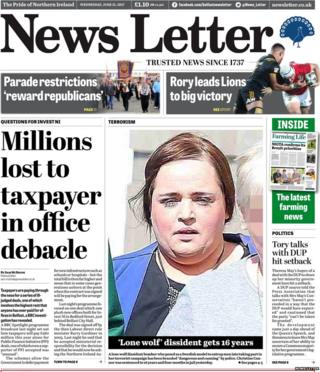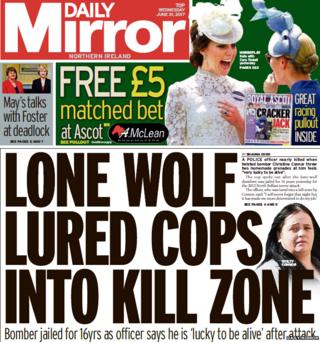 All the papers show the face of the woman who posed as a Swedish model to entrap men online into taking part in attacks on PSNI.
Christine Connor, who was sentenced to 16 years in jail, on Tuesday for a number of terrorism offences was branded "dangerous and cunning" by police.
The Daily Mirror describes her attack as one of a "lone wolf".
The Irish News reports that she "sniggered" in the dock during sentencing, while the Belfast Telegraph says she was an "unlikely terrorist".
Has the Northern Ireland Office (NIO) damaged talks with Theresa May?
The Belfast Telegraph reports that a senior source in the party has accused it of just that.
The source told the paper the NIO is putting a deal between the DUP and Tories at risk with its "deeply unhelpful interference".
It reports that the NIO has been "wrongly arguing" that a Tory-DUP deal would compromise the government's impartiality in talks to restore Stormont.
In yesterday's papers, locum A&E doctors being offered hotel stays was the story, now the focus is on GPs.
The Irish News reports that GPs are being offered £2,000 to work out-of-hours. The paper claims to have seen correspondence from the health board offering a £1,000 top-up for working 25 hours over a three month period, in addition to out-of-hours payments.
The paper says a further incentive will be paid after six months.
The News Letter reports on a big BBC Spotlight scoop. Tuesday night's programme set out how taxpayers will pay £260m this year alone for Public Finance Initiative (PFI) deals.
The paper has described them as a "series of ill judged deals". One of the deals involved the highest rent that anyone has ever paid for offices in Belfast.
The schemes allow the government to defer payment for new infrastructure such as schools or hospitals, but the bill then is far higher - and in some cases people who aren't even born yet will still be paying it off.
The audit office is being asked to investigate the contract.
'Inspiration'
The paper also shares the inspiring story of an Afghan veteran who lost both his legs, and has been visiting prisoners in Northern Ireland.
Duncan Slater, who lost his legs in a bomb blast, went to HMP Maghaberry in the hope that his story may help inmates get their lives back on track.
Mr Slater, who hasn't let the loss of his limbs slow him down, was the first double amputee veteran to race to the South Pole and complete the world toughest ultramarine marathon.
He highlighted the fact that everyone has a future.
"I got to meet a lot of prisoners and chat to them," he said. They've only made some bad choices in life which have brought them into prison, but there is no reason to condemn anyone".
Holistic pups
If you thought acupuncture and hydrotherapy were just for humans, think again. Northern Ireland has its very own Supervet, according to the Belfast Telegraph.
The paper features east Belfast vet Siobhan Menzies who treats her canine clients to a variety of holistic medicines.
She says for a time she was regarded as a "voodoo vet" by some others in her profession, but the industry has caught up now.