De La Salle child protection file lost after complaint over priest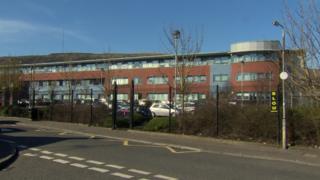 A report into specific child protection concerns at De La Salle College in Belfast has found that some important records had been lost.
It examined allegations by three pupils that a priest had made "inappropriate" comments to them during confession.
The incident took place in May 2013. Separate complaints were made in June 2013, September 2014 and March 2015.
In the case of the first pupil to make a complaint, their confidential child protection case file had been lost.
The three students are referred to in the independent report as Pupil A, Pupil B and Pupil D.
All three complained that the priest had asked them intimate questions about their sex lives.
The allegations were referred to the Police Service of Northern Ireland, but they decided to take no further action.
'Breach of trust'
The authors of the report found that, in all cases, the pupils' allegations had been reported to the relevant designated teacher.
They also found that most other relevant child protection procedures had also been followed.
However, the report expressed concern that Pupil A's child protection case file was missing.
"The fact that a confidential file cannot be located is a serious breach of trust and procedure," it stated.
In addition, it noted that "there was no evidence of a formal risk assessment in any of the case files examined".
"Only Pupil D's child protection case file was compliant with the normal standards and contained the expected documentation."
As a result, in some cases, the report's authors had to rely on anecdotal evidence on procedure being followed.
The report was commissioned by De La Salle's Board of Governors.
In a statement, the governors said that they were "wholly committed to ensuring the implementation of the recommendations contained within this report".