Linfield fans react to new date for potential Celtic match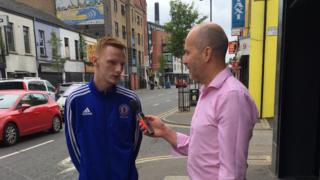 The second week of July could be a big one for many Linfield fans.
The 11th Night, the Twelfth, and now a potential Champions League Qualifying match against Celtic on the 14th.
The match can only happen, of course, if 'The Blues' defeat La Fiorita of San Marino in a first-round clash.
But that little caveat is not stopping Linfield fans from dreaming of a big day out at Windsor Park and a big pay-day for their club against the Scottish giants.
Linfield fan William Walsh says it will be a great day for the team and fans and he has no fears about trouble.
"It's just the same as Cliftonville coming to Windsor Park, it'll just be the exact same," he said.
"It'll be cordoned off by police security. So, there's no point bumming and blowing about fighting or anything because it's not going to happen, I don't think."
Another fan, Davy Warren, has been following Linfield for half a century. He says there is great excitement among fans.
"It's good for Linfield, you know what I mean, it puts Linfield in the picture, playing a team like Celtic," he said.
Richard Blair was wearing his Linfield top when I met him, along the Donegall Road.
He is happy with the change of date.
"It gives us time, like, to prepare for the twelfth and all, get that out of the way and prepare for the big game on Friday," he said.
And, he also told me that he believes Linfield can topple the mighty Celtic and qualify for the big time in the Champions League, once they beat La Fiorita.
"Hopefully we do, then we play Celtic, then beat them ones and then hopefully get through into the group stages of the Champions League," he said.
No pressure, then, on David Healy's team, against a club which became the first British team to conquer European football fifty years ago this year.