Man arrested after 'machete' found in car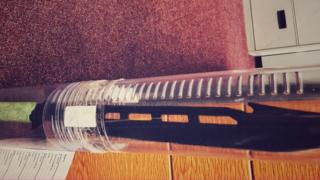 A man has been arrested by police investigating a report of a man armed with a knife attempting to force his way into a man's home in north Down.
Officers were called to an address at Fort Terrace shortly before 06:00 BST.
During a search, police said they found a car linked to the suspect with a drunk woman inside. They forced open the car and found a "machete-type" knife in the vehicle.
A short time later, police arrested a 31-year-old man who remains in custody.
A police spokeswoman said the woman is "believed to have willingly travelled to the area in the vehicle as a passenger and is not suspected of involvement in any alleged crime at present".
Officers in Bangor posted a photo of the machete on their Facbook account and said the weapon measured "over two feet in length".