Fire at house in north Belfast was 'deliberate'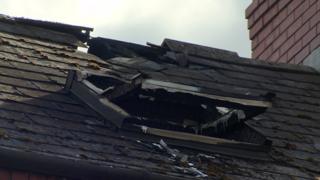 Extensive damage has been caused to the top floor of a terraced house in north Belfast.
The Northern Ireland Fire and Rescue Service (NIFRS) believes the blaze at the unoccupied property in Wyndham Street was started deliberately.
Fifteen firefighters attended the incident on Sunday afternoon.
NIFRS Assistant Group Commander William Johnston said a family living at a neighbouring property had to move while the blaze was tackled.
He said firefighters had prevented the fire spreading to other properties.