York Street Interchange project faces legal challenge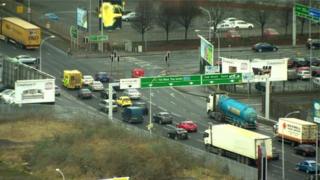 The Department of Infrastructure has confirmed there is a legal challenge over the main contract for the York Street Interchange project in Belfast.
It has provided few details, but said it meant a tender for construction cannot be awarded at present.
The project received a funding boost from the DUP-Conservative deal, but a start to the main work is not imminent.
The agreement named the interchange as a project that will benefit from £400m of infrastructure spending.
The department said once the contract can be awarded, construction would start "in about 12 months".
Realistically, it could be late 2018, or 2019, before the project is likely to get going.
The cost of the project is between £130m to £165m and will take around three years to complete.
The scheme is designed to ease congestion at the junctions of the M1, M2 and M3 with a new bridge and underpass.
Although it had been progressed through planning, funding was uncertain until the DUP deal.