Police probe 'shots fired' at Belfast funeral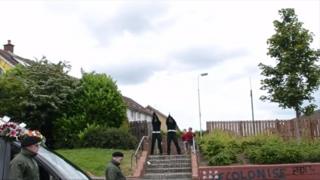 Police have launched an investigation after video emerged of shots apparently being fired at a republican funeral in west Belfast.
The video shows two masked men firing a volley of shots into the air as two children stand nearby.
It was posted on a YouTube channel called IRSP (Irish Republican Socialist Party) Media Belfast.
The channel indicates that the video was filmed at the funeral of Barry McMullan on Monday.
The published description of the video reads: "Irish Republican Socialist Movement lay Comrade Barry McMullan to rest with full honors (sic). Belfast, June 26th 2017."
Det Ch Insp Gary Reid said: "Police are aware of the footage showing shots apparently being fired by masked men in west Belfast in recent days.
"An investigation is underway."