All NI councils miss planning applications target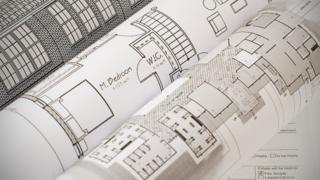 None of Northern Ireland's councils met the statutory 30-week average target for processing major planning applications last year.
The detail is contained in an annual statistical report published by the Department for Infrastructure.
Major applications are defined as those that have important economic, social and environmental implications for a council area.
Processing times for major applications increased in nine of the 11 councils.
Ards and North Down reported an improved processing time over the to 37.6 weeks which was the lowest of any council.
Derry City and Strabane had by far the highest processing time of 304.8 weeks for the 19 applications which they processed.
However nearly three quarters of those applications were legacy cases (applications received prior to transition of planning powers) that had been in the system for a considerable amount of time.
The time taken to process a decision is calculated from the date on which an application is deemed valid to the date on which the decision is issued or the application is withdrawn.
Overall, 13,037 planning applications were received, an increase of 7% on the previous year and the highest number recorded since 2011/12.
The total number of applications across all types of development is still less than half of the pre-crash peak.