Belfast: Runners get set for 24-hour World championship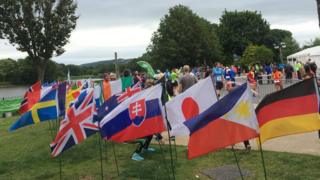 National flags from around the world were fluttering gently in the shadow the of the iconic Harland and Wolff cranes in east Belfast on Saturday.
They represented the 42 nations competing in the International Association of Ultra Runners 24-hour World Championships.
Hundreds of young and not so young runners from around the globe are competing in the event at Victoria Park.
They set off at midday.
Many of them hope to keep on running, or walking, or doing whatever it takes, to continue circling the course until midday on Sunday.
Among those limbering up on Saturday were athletes from Brazil.
The Finnish runners and coaches were in a last-minute team bonding huddle, the American team were high-fiving.
Voices and accents from across the world echoed around the calm setting of the tree-lined park along the Connswater river.
Richard Avery from New Zealand was counting down the last few minutes.
"We've been in Europe for a month now, well over the jet lag and ready to go. Can't wait," he said.
Harvey Lewis, USA, said "It's exciting to be here in Belfast. It's amazing to see all the different athletes."
Thomas Craig had less of a trek as he is from Larne in Northern Ireland.
He has completed the event twice before. He had worked out his tactics to get through this event.
"Twenty-five minutes running, five minutes walking, twenty-five minutes running, five minutes walking, and just keep progressing that and, fingers crossed, I don't blow up and I keep doing that!"