Belfast glassware factory destroyed by 'suspicious' fire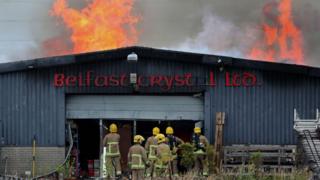 A near 40-year-old cut-glass business in west Belfast has been destroyed in a major fire, leaving its owner and his family "devastated".
Police are treating the blaze at the Belfast Crystal factory in the Kennedy Way industrial estate on Saturday evening as suspicious.
Owner Tony Abbate said years of hard work "through bad times, through good times" had "all gone in one night".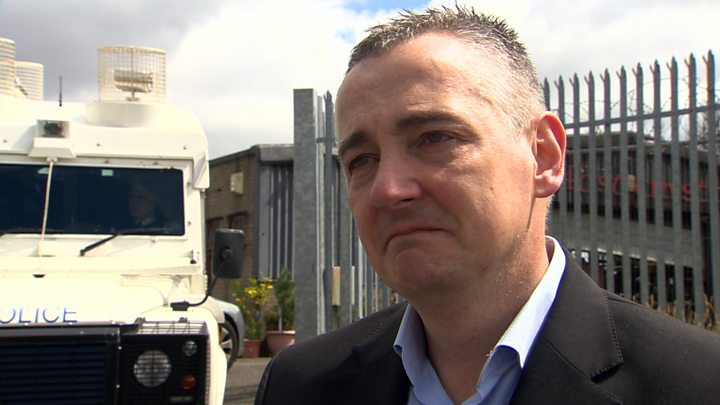 The factory's structure, machinery and glass stock were extensively damaged.
More than 40 firefighters were required to deal with the fire, which was reported just after 18:00 BST, with seven fire appliances, including an aerial unit, attending to it.
Mr Abbate's family-run firm was established by his father in 1978 and produces hand-cut glassware that is both sold in the UK and exported to other parts of the world.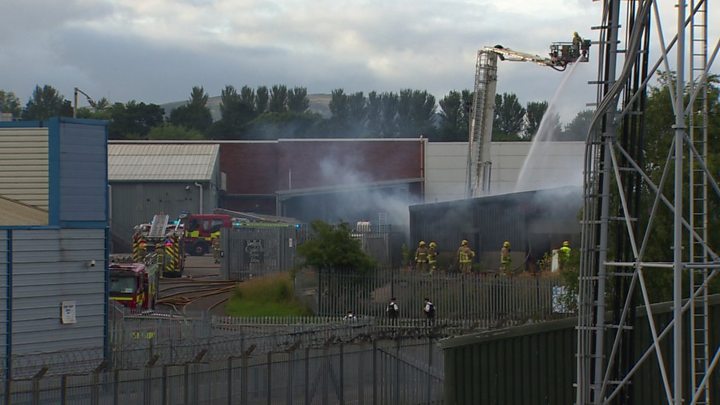 He said he is there is "absolutely devastated" after finding there is "nothing left" after the blaze at his premises.
"I've been at this since I left school - it's all of me in there, my savings, my pension, my work, my social life," he added.
"My father is going to be broken because this is his life, too.
"He's 83 years old and he still comes to work every single day.
"I don't know what to do on Monday morning because there's nothing to come back to."
Fire service area commander Aidan Jennings said the operation to tackle the fire was complex because of the risks posed by gas cylinders and oil tanks close to the premises.
That meant that several buildings, including the Kennedy Way shopping centre and a cinema, were evacuated for a short time.
"There's extensive damage to the building," Mr Jennings said.
"On the front section of the building the roof and structure is still intact.
"However, as you make your way though, the upper section and roofing section is burnt away entirely and there's extensive damage to stock inside as well."
Police have appealed for anyone who noticed suspicious activity near the factory on Saturday to contact them.