Londonderry suspicious object declared 'hoax'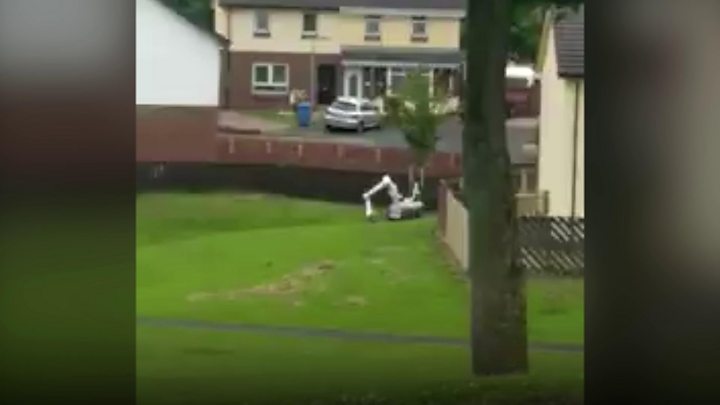 A suspicious object that sparked a security alert in Londonderry has been declared an "elaborate hoax".
About 20 houses in Glengalliagh Park were evacuated on Sunday evening while the bomb squad dealt with the object.
One resident broke the police cordon and walked close to the object shortly before a controlled explosion was carried out, but was not injured.
SDLP councillor Brian Tierney said the woman was a "very lucky lady".
'Baited breath'
"I was very shocked to see the lady come out of the laneway," Mr Tierney told BBC Radio Foyle.
"A few (residents) had suggested they weren't going to leave and were advised to stay at the back of the property, it's my understanding that this lady was one of them.
"She's a very lucky lady this morning.
"You can hear the screams of the crowd who were trying to let her know and I think everyone just waited with baited breath to see how she was going to get past it," he added.
Bomb disposal experts were dispatched after the suspicious object was reported to police.
"We called to a number of homes in Glengalliagh Park and advised residents to leave their homes," said Insp Mullan.
While some residents followed police advice, others opted to remain inside their homes, added the officer.
"One resident left their home and walked past the suspicious object while attempts were ongoing to make the object safe.
"We spoke to the resident immediately after and, although she was shaken, she was uninjured."