NI newspaper review: Talks, the Titanic and chilled out seals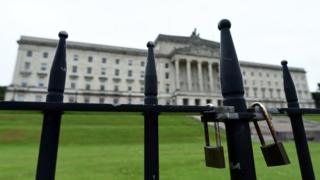 Talks to restore devolution, Titanic artefacts and laid-back seals all feature in Monday's papers.
Not surprisingly, as talks look set to break up without agreement on Monday, politics dominates the front pages.
"Politicians have all the time in the world... I don't" is the poignant headline in the Irish News.
Billy McConville, one of 10 children orphaned by the IRA murder of west Belfast woman Jean McConville, makes a "death-bed plea" for a political deal.
Mr McConville, who is 50, has terminal bladder cancer.
"Me and my family were let down by every side and we're still being let down by politicians," he tells the paper.
The Belfast Telegraph says that neither direct rule nor a snap election are expected if no deal is reached between the DUP and Sinn Féin on Monday.
Rather, it says, the secretary of state is expected to put the talks on ice until August - after the Twelfth holiday.
In a column inside the paper, Sinn Féin's John O'Dowd says no deal will be achieved without a "step change" in the DUP's position.
The News Letter leads with a call from Orange Order grand secretary Rev Mervyn Gibson for the order to make strategic alliances "with those who we differ with morally, fiscally or even theologically" for the sake of the United Kingdom - "those who in the past we kept at arm's length, or they us".
Speaking at the annual Boyne commemoration in Scotland, Rev Gibson said that the union "is too important to be complacent about".
The Daily Mirror carries a story headlined "Claims fly as Arlene gets £20k RAF flight". The paper says the Conservative Party has confirmed that it paid £20,000 to fly DUP leader Arlene Foster to Belfast on an RAF plane after talks at Downing Street.
Moving away from politics, the paper also says more than 5,000 Titanic artefacts could be returned to Belfast after a £165m "rescue mission" was launched by James Cameron - director of the 1997 Hollywood film about the disaster - and Dr Robert Ballard who discovered the wreck 32 years ago.
Staying with maritime matters, the Mirror has a cute picture of a chilled out grey seal relaxing in a dinghy just off the Copeland Islands near Donaghadee.
The News Letter, Belfast Telegraph and Irish News all feature west Belfast businessman Tony Abbate who says he has been "left with nothing" after the factory he spent years working for was destroyed in a fire at the weekend.
The blaze at Belfast Crystal Ltd is being treated as suspicious.
The Belfast Telegraph says there is anger that one of Northern Ireland's "most notorious murderers is back on the streets".
Stephen Scott murdered, then dismembered, his pregnant former girlfriend Sylvia Fleming in Omagh in 1998.
The paper says he has been seen at his mother's home in Warrenpoint as part of what is believed to be a pre-release scheme preparing him for his eventual freedom.
Finally, the Telegraph says that the producers of Love Island spinoff After Sun are planning to air a parody song by Lisburn woman Jordan Humphries.
Paying tribute to those taking part in the show, she sings: "And yeah they're all mugs and fakes and snakes and when they come out they'll be selling protein shakes."
It says that after Ms Humprhries posted the video on Facebook, it went viral, attracting more than 400,000 views.