Boxing clubs protest outside Belfast City Hall over 'funding cut'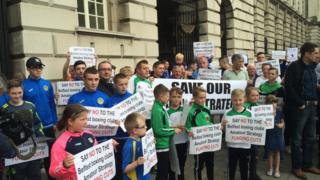 More than 100 members of boxing clubs in counties Antrim and Down have held a protest outside Belfast City Hall.
The clubs claimed Belfast City Council council scrapped a funding agreement without any explanation.
Boxers, coaches, family and supporters from 25 clubs met on Monday, ahead of a council meeting at 1800 BST.
The council has declined to comment. The clubs claim two paid boxing development posts, working across all the clubs, will go.
'Not happy'
The father of two-time Olympic bronze medallist Paddy Barnes, President of the County Antrim Boxing Board Paddy Barnes Snr, told the BBC that young boxers will lose out.
"We've had an ongoing strategy for three years in partnership with the council and this year they've decided to cut the funding by 88%," he said.
The clubs said they have been working off a £200,000 annual boxing strategy over the past three and a half years, he said.
Mr Barnes said the funding has been cut to £24,000 and the clubs are "not happy about it".
"The strategy was agreed three years ago to last until 2020 and we want answers why the funding has been cut by so much".
Mr Barnes told the BBC some council members had said they would try to "boost the funding through an under spend in the city council" at the meeting.
"It would be good if that happened but it's the bigger picture here. We want this to last until 2020," he said.
"It's only two weeks ago we had three fellas from Belfast representing Ireland at the European championships, who have taken part in this strategy, have boxed in Whiterock Leisure Centre," he added.