Son faces retrial over father's road death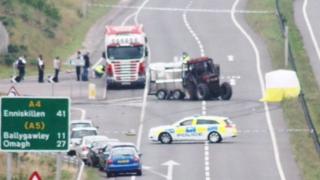 A County Tyrone man accused of causing the death of his father in a collision between a tractor and a lorry will face a retrial.
A jury failed to reach a decision over what charges Paul Brady, 46, of Minterburn Road, Caledon, should face over the death of his father.
Phelim Brady, 69, died in the crash on the A4 near Dungannon in June 2014.
He was travelling on the draw bar between a tractor, driven by his son, and a trailer when the crash happened.
The driver of the lorry, 53-year-old William Murphy, of Prospect Park, Castlewellan, County Down, was accused alongside Mr Brady and admitted causing death by careless driving.
Last Wednesday, the jury retired to consider a list of potential charges to apply to Mr Brady and to deliberate on whether Mr Murphy's driving reached the threshold of dangerous.
After seven hours of deliberation, the jury unanimously agreed that Mr Murphy was guilty of causing death by careless driving, a charge he had already admitted, but the jury was hung in respect of all charges against Mr Brady.
Mr Murphy will be sentenced on 3 August.
'Matter not resolved'
In the case of Mr Brady, the judge barred the media from reporting on the case and granted an adjournment to allow prosecutors to consider their position.
The case returned to court on Monday, and prosecutors said they would seek a retrial.
The defence responded that "significant issues have arisen in the course of the trial and we intend to instruct an expert accordingly".
Mr Brady's lawyer also pointed out that further charges had been laid against his client, but he had not been arraigned on these.
The judge ordered the matters of driving while disqualified and without insurance to be put to Mr Brady and he pleaded guilty to both counts.
However, the prosecution said it accepted the pleas but that they "do not in themselves resolve the matter and a trial is still required".
The judge adjourned the case for retrial, with a date yet to be confirmed, and lifted the reporting restrictions.
Mr Brady was remanded on continuing bail.