Bus goes up in flames in County Armagh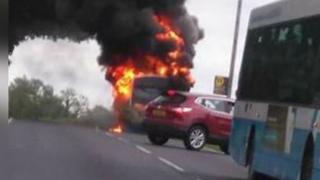 Twelve firefighters have battled to put out a blaze that engulfed a broken-down bus in County Armagh.
The Ulsterbus was travelling on the Killylea Road when the incident happened at about 18:45 BST on Monday.
Translink told the BBC it would hold a full investigation into the cause of the fire.
Two appliances were used to bring the flames under control; no injuries were reported as the bus had been evacuated before the fire broke out.
Passengers had been moved onto another bus after it broke down, said Group Commander Glen Cleland of the Northern Ireland Fire and Rescue Service.
"I would commend the actions of the driver in getting everyone off board before the fire, which prevented any injuries," he said.
"Initially we have no major suspicions over the fire."
The NIFRS said it took 20 minutes to put out the "significant" fire.