Newspaper review: Online bullying and anger over impasse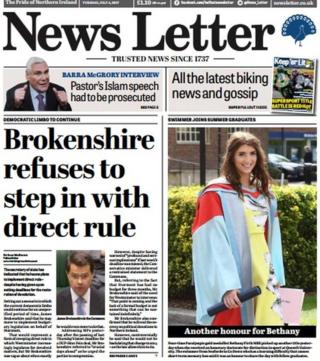 While the ongoing stalemate at Stormont again features heavily in the papers, the Irish News leads with a mother's warning about online bullying.
Elle Towbridge was found dead at her home in Killyclogher, outside Omagh, in April.
Her mum Mandy tells the Irish News that Elle had been "very scarred" by repeated bullying on social media.
Ms Towbridge says she has spoken out to warn other parents about the dangers of online abuse.
"Elle's heart is now my heart and it will beat on and I will put everything I have into this 'No More'," she says.
The paper says the PSNI receives reports of cyber bullying from parents "almost daily".
Both the News Letter and Belfast Telegraph lead with politics on their front pages.
The News Letter says that NI Secretary James Brokenshire has refused to step in with direct rule after the failure of the parties to reach an agreement to restore power-sharing.
Inside, the paper says that among the measures Sinn Féin is believed to be calling for is a fixed quota system to get more Irish speakers into the civil service.
Former culture minister Michael McGimpsey tells the News Letter that it would take an "army" of translators wasting a "rainforest" of paper to make Northern Ireland's court system bilingual.
On its front page, the Belfast Telegraph says that civil servants will be given greater control of how spending in Northern Ireland - including the £1bn earmarked as part of the agreement between the Conservatives and the DUP - if a deal is not reached.
The paper calls it a "£1bn gamble".
Writing inside the Telegraph, DUP leader Arlene Foster says that "progress is best made in Northern Ireland when all sides of the community can support it".
She says the challenge for Sinn Féin is whether it can act in the interests of everyone in NI or whether it maintains its "narrow focus".
'Bunch of children'
The paper also features the views of residents of Belfast's Shankill and Falls areas about the impasse.
"Like a bunch of children"; "they shouldn't be getting paid" and "they aren't doing anything for the ordinary people" are just some of the views expressed.
All the papers also report a court case involving a Belfast rioter who threw a ladder, traffic cone, bottles, bricks and an iron bar at police - before twice mooning at them.
Sentencing him to three years and one month in prison, a judge described his actions as "shocking and disgraceful".
Both the Irish News and Daily Mirror report that a gun attack at Norglen Parade in west Belfast on Monday morning was at the house of the daughter of a man murdered by republicans last year.
A group calling itself Republican Action Against Drugs murdered 55-year-old Dan Smith in May 2016.
Inspirational graduates
The Belfast Telegraph features the uplifting stories of two students who have overcome extreme adversity to graduate in professions where they can help others.
Medical student Jordan Clements has graduated after six years' study, despite suffering from muscular dystrophy. He will begin work as a junior doctor in August.
Meanwhile, Stephanie Burton has qualified as a nurse two years after suffering a brain injury when she was punched to the ground while on holiday in Salou, Spain.
Finally, if you've ever wanted to see Eamonn Holmes in a fur coat or dressed as an Arab sheikh, now's your chance.
With a third series of How the Other Half Lives under way, Eamonn and his wife Ruth Langsford tell the Belfast Telegraph what items have turned their heads "in the world of the uber rich".
Thankfully the fur coat - more stomach-turning than head-turning - doesn't seem to be among his favourites.