Michael and Martin O'Neill honoured with degrees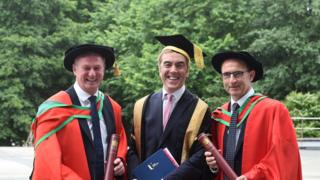 The Northern Ireland football manager Michael O'Neill and his Republic of Ireland counterpart Martin O'Neill have been awarded honorary degrees for their outstanding contributions to sport.
It follows the success of their teams in the 2016 European Championships.
Michael O'Neill played 31 times for Northern Ireland, while Martin O'Neill played 64 times.
They joined 13 other people being honoured by Ulster University on Tuesday.
Those recognised at the university's summer graduations in Coleraine came from the world of sport, the arts, the economy, engineering and peace building.
Michael O'Neill said it was an occasion to celebrate success on the pitch, and the wider impact of sport.
"Martin, obviously captained Northern Ireland in the World Cup and we saw in '82 what that did for the country," he said, referring to Northern Ireland's qualification from the group stage in Spain that year.
"And, equally, I saw what going to France (last year) did for the country as well.
"I think sport has been so positive here in Northern Ireland and it's nice to come here today and pick this up."
Both Northern Ireland and the Republic of Ireland qualified for the second round in the 2016 European Championship held in France.
Other honorary degrees were awarded to:
Steve Coyle, chief executive of AFL-CIO Housing Investment Trust, for his contribution to peace building
Rev Gary Donegan of the Peace and Reconciliation Office, for his contribution to peace building
Sally O'Neill, human right advocate, for her overseas development work
Thomas DiNapoli, the Comptroller of New York State, for promoting US investment in Northern Ireland
Patrick Yu, former chief executive of the NI Council for Ethnic Minorities, for his outstanding contribution to the promotion of racial equality, diversity and multiculturalism
David Orr, former president of the Institution of Civil Engineers, for his services to engineering
Wendy Blundell, Director of UK Regions of the Institution of Civil Engineers, for her services to engineering
Prof Peter Sachs, University of Applied Sciences, Kempten, Germany, for his contribution to teaching and research in digital electronics
Fr Harry Coyle, for his contributions to the Irish language
Sean Doran, an artistic director working in the international arts world, for his contribution to the English National Opera.
John Irvine, ITV News' international correspondent, for his contribution journalism
Dáithí Ó Ceallaigh, for his contributions to the Press Council of Ireland and the Peace Process
Richard Simms, director of PACE Sports Management, for his achievements as a sports agent
Commenting on the awards, Ulster University Vice Chancellor Prof Paddy Nixon said: "Each of these recipients has made an indelible mark in their field, advancing knowledge, building community, achieving excellence and above all acting as inspirational role models for us all.
"They display leadership, progressive thinking, compassion, bravery, integrity and tenacity alongside superlative skills and talent - characteristics that we aim to instil in all our students.
"As our next cohort of students prepares to graduate, I hope that they will be inspired by these people who, through the generous application of their talents, have made a positive impact on society," he added.