Scrabo Tower reopens to the public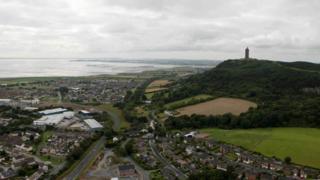 Scrabo Tower, one of County Down's most familiar landmarks, has reopened.
The building, which sits on top of a hill in Newtownards, was shut to the public in 2014 after water damaged its electrical supply and lighting.
The tower, built in 1857 as a memorial to Charles Stewart, the 3rd Marquess of Londonderry, has undergone repair work and was opened for a trial last summer.
It had been due to open on Friday 30 June, but that was postponed "due to unforeseen circumstances".
The Department for Communities said the landmark, which overlooks Strangford Lough and stands in a country park, would be opened in partnership with the National Trust from Friday 7 July.
The tower houses displays and visitors are able to climb 122 steps to a viewing platform at the top.