NI newspaper review: Rory McIlroy struggles, bonfires and Brexit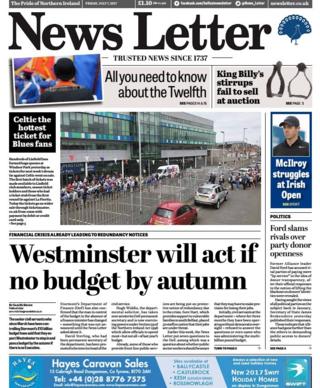 Judging by Friday's papers, it'll be impossible to fore-get (don't - Ed) the rough (no - Ed) and tumble club (stop - Ed) of golfers and fans who have pitched (nooooooo - Ed) up at Portstewart this weekend.
Today's dailies feature plenty on Rory McIlroy, whose opening round struggles dominate the back pages, as well as the appearance of wife Erica Stoll, who features on the front page of the Belfast Telegraph and Daily Mirror.
'Beaming Erica lights up the Irish Open," says the local Telegraph, while the Mirror goes for 'Hats my girl' but notes it was a "rough day for hubby Rory".
Inside, the Belfast Telegraph dedicates pages two and three to the spectators and talks to fans who "jostled for a glimpse of their hero".
Among those featured are Mo and Mike Griffin, two stalwarts of Portstewart Golf Club who will be spending the weekend hard at work despite it being their 41st wedding anniversary, and Colin and Amanda Jeffrey who travelled up from Londonderry.
"I've heard people saying Rory has lost his focus. But to me he's still a star," says Colin. "He could retire tomorrow and still look back at a career that most golfers can't even dream about. Rory does an awful lot right."
As reporter Ivan Little notes: "Not yesterday he didn't."
Over in the Irish News, the front page is dominated by Brexit and bonfires.
'Impaled' on rod
According to its main story, a "frictionless" border is not possible without the UK staying in the EU single market - that's the view of the EU's chief negotiator Michel Barnier.
Meanwhile, its main image features a large bonfire being built close to a petrol station in Carrickfergus under the headline "Pyre Maniacs".
Back over on the Belfast Telegrpah front page, it reports that an 18-year-old has been charged over making "sexually explicit and violent threats" against DUP Arlene Foster online.
The man will appear at Newry Magistrates Court on 2 August.
On page 16, the paper carries a nasty story and image - a young boy who suffered a "horror" injury when he was impaled in the leg on a metal rod.
Ryan Patez, 11, was playing with his younger brothers in a park in Portstewart on Wednesday when he fell on a rod that had been temporarily placed there by the Causeway Coast and Glens Borough Council. He suffered a four-inch wound in his thigh.
His mother, Natalie Patez, said they were "relieved" his injuries were not worse.
"A council official called to the house asking if he could do anything for us and offered passes to the golf event, but that's not really what we wanted.
"He apologised and said they have removed the iron rods from the grass."
Over in the News Letter, Stormont is back on the front page with a report indicating Westminster will step in and pass a Northern Ireland Assembly budget by the autumn if the political parties continue to take a mulligan (this better not be a golf thing- Ed) in talks to restore devolution.
According to the paper's political editor, Sam McBride, the Department of Finance officials expect the government will step in by September as civil servants continue to operate Northern Ireland's finances in the absence of a budget.
Speaking of budget - if you have a spare £40.000 lying around, then you may have missed your chance to own a legit slice of history.
A pair of stirrups used by King William of Orange at the Battle of the Boyne have remained unsold after failing to meet its reserve at auction., according to the News Letter.
The copper-alloy relics can be traced directly back to King Billy himself but it appears the high price has put off potential buyers.
However, if you're looking for something more budget friendly for the Twelfth, the Daily Mirror has you covered (in a cardigan).
A 61-year-old grandmother is knitting up a storm by creating Twelfth-themed cardigans for babies, so they can be on point at the parade.
Mary McFadden's granddaughter Rhiannon said: "New parents can get them so their baby has a keepsake of the day. Granny even gets Union flag buttons to match.
"There's only a few days left to the Twelfth and she might find herself very busy."
Always good to see some entrepreneurial spirit, fairway to her (you're sacked - Ed).