Drink-driving warning issued by police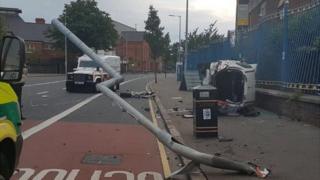 Police have published a photograph to warn motorists of the dangers of drink-driving.
It shows the aftermath of a car crashing on to a pavement on the Falls Road in west Belfast on Saturday night.
The driver was arrested for various motoring offences and his female passenger had to be cut from the car.
In a Facebook post, PSNI West Belfast said: "Luckily tonight nobody was killed or seriously injured but things could have been very different."
The post also noted that the driver was three times over the legal limit, and carried this message: "Don't be stupid... don't drink and drive. #itsnotworthit #leavethecarathome."