NI newspaper review: Bonfires, visa row and trampoline dismay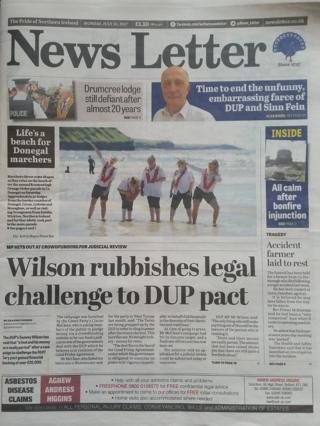 With just two days to go until the Twelfth, things are hotting up in the daily papers over a bonfire legal row.
"Loyalists demand unionist bonfire response" is the headline on the front page of the Belfast Telegraph.
It reports that Jamie Bryson has called on unionist councillors to condemn a High Court injunction barring more material being placed on four bonfires in the city.
The injunction aims to prevent the bonfires becoming bigger before they're lit on Tuesday night.
The Belfast Telegraph reports that council officers sought the injunction with support of all the parties at Belfast City Council.
In a separate article, gauged views at the four sites named in the injunction and reports that bonfire builders remain "defiant".
"We certainly won't be turning anyone away, and what are they going to do about it - take about 700 people to court?" said one person at a bonfire site at Avoniel Leisure Centre.
Over in the News Letter, however, there's a different take under the headline: "Calm in East Belfast in face of bonfire storm".
UUP councillor Jim Rodgers said: "It's been generally quiet, I haven't heard of there being any stand-offs or anything like that."
Meanwhile, the Daily Mirror speaks to the bricklayer behind one of Northern Ireland's biggest bonfires - who says the task of turning pallets into a pyre is a community force for good.
Andre Austin is one of the builder's of the huge Corcrain bonfire in Portadown. He says the project gives local teenagers something positive to focus on.
"It keeps them busy at weekends. It keeps them off drink and out of the police's road," he says.
Elsewhere in the Mirror, the paper reports on a family's disappointment after their disabled son was told he could not play at a trampoline centre in Belfast.
The parents of Zack Gorden, who has prosthetic legs, said he was left distraught after being "singled out" at We Are Vertigo during a summer scheme.
"When he came home he was upset and silent and went to his room and would not come out," said his father, Patrick.
We Are Vertigo said staff felt "there may have been an increased risk of injury to the child on our trampolines" and have invited the family to "discuss this further and to see how we can facilitate future visits".
Back over in the News Letter, the front page turns once again to politics with a DUP MP "rubbishing" a legal challenge launched against the DUP and Conservative Party pact.
Sammy Wilson said that "a fool and his money are easily parted" over news that the legal challenge had raised more than £20,000 in funds via an online campaign.
The challenge has been brought by Green Party member Ciaran McClean, who says the deal "flies in the face of the Good Friday Agreement".
'Ridiculous situation'
Meanwhile the Irish News' front page says a County Londonderry woman's US husband is being held "hostage" by the Home Office because she refuses to call herself a British citizen.
Emma DeSouza says the Home Office are insisting she describe herself as British in her attempts to gain a visa for her husband Jake, despite her being an Irish passport holder who does not identify as British.
She says Mr DeSouza surrendered his passport to the Home Office but that it will not return it until she drops her visa application or changes her nationality to British, leading to Mr DeSouza missing funerals in his homeland and losing out on income as a touring musician.
"This is a ridiculous situation that is threatening our financial security," she told the Irish News. The Home Office told the paper that "all applications are considered on their individual merits".
Elsewhere, the paper notes a "very different kind of ring" for Belfast boxer Paddy Barnes after he celebrated his wedding at the weekend.
Barnes, 30, tied the knot with his long-term partner Mari Burns on Saturday after 14 years together. And it was a boxing affair all round, as two of the groomsmen were none other than former world champion Carl Frampton and Olympic medallist Michael Conlon.
Finally, sticking with the sporting theme. the Belfast Telegraph says the Irish Open gave "Portstewart 100,000 reasons to celebrate" after the golf tournament came to an end on Sunday having recorded 100,000 visitors to the north coast course.
Next year, the tournament moves slightly further up the coast to Ballyliffin in County Donegal, where organisers are certain the tournament will once again by a major success.