Derry man Anthony Moran shot 'as substitute for friend'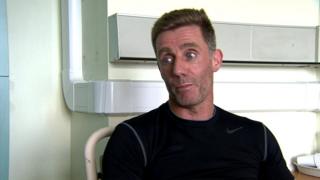 A 44-year-old man shot in the knees in Londonderry has said he believes he was in the wrong place at the wrong time.
Anthony Moran believes his friend was the intended target of the masked gunmen, but he managed to flee the scene.
Mr Moran said he decided to speak out to clear his name after he was shot - it is believed by dissident republicans - on Monday of last week.
He was visiting his friend in Galliagh Park when three masked men burst in.
Two were carrying metal bars and a third was armed with a gun. The 44-year-old said his friend was under threat from dissident republicans.
When a number of shots were discharged, he said his friend ran out and the gunman then turned his attention to him.
"I believe that the guy who shot me knew that he wasn't there to shoot me," he said.
"But whatever way their operation panned out, I think, in a split-second decision, he's decided to take it upon himself - 'there's somebody here, I can't get the guy [they planned to shoot], I'll get this guy here whoever he is'."
"I'm not known to them, I've never been in trouble with them, I've never had the need to go and speak to them, they've never spoke to me, I've never been in trouble with the police.
"So I definitely don't understand why I was targeted in the end and, as I say, I don't think I was originally the target.
"I think it was just a split second decision by the guy with the gun."
Mr Moran said he would have to use a wheelchair for at least the next six weeks and after that there will be several months of rehabilitation. However he said he is determined to make a full recovery
He said his family have been trying to find out why he was targeted, but have so far been met with silence.