Northern Ireland people 'could elect Irish MEPs'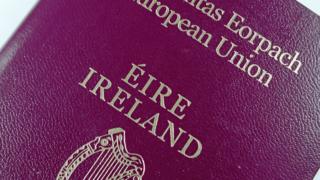 People from Northern Ireland could elect MEPs in the Republic of Ireland after Brexit, the European Parliament's Brexit negotiator has suggested.
Guy Verhofstadt was speaking to a parliamentary committee that is considering how to redistribute the seats given up by the UK.
Northern Ireland currently elects three MEPs, while the Republic of Ireland elects 11.
He said those with Irish passports in NI should still have a vote.
Having an Irish passport will entitle those in Northern Ireland to remain EU citizens.
Mr Verhofstadt explained that it could be done by increasing the number of European parliamentary seats in the Republic of Ireland.
However the chair of the committee, Danuta Hubner, said: "It is amazing what you are saying because it is the Republic of Ireland which is against this idea of giving the right to vote to nationals in third countries - so we have a problem here."