Twelfth march: Woman injured by car in south Belfast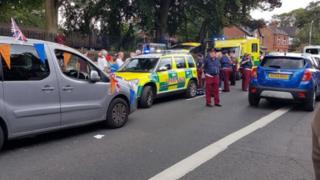 A woman has suffered a leg injury after being struck by a car during a Twelfth of July parade on the Lisburn Road in south Belfast.
The Northern Ireland Ambulance Service (NIAS) said the incident was reported just before 12:45 BST on Wednesday.
It said the woman had been taken to the Royal Victoria Hospital with a knee injury.
An eyewitness told the BBC that the car had lurched forward and knocked into three women.
John Sheil, who was watching the parade, said the woman was taking part in the march when a car going past Drumglass Park hit her and two other women.
He said that the incident appeared to be an accident.
It "brushed one girl, knocked another one right up in the air and another was trapped under the car," said Mr Sheil.
Police said it received a report of a road traffic collision in the Lisburn Road area of south Belfast and that three women "received minor injuries when they were struck by a grey Peugeot car that was travelling as part of the parade".