Coastguard rescue woman from Fair Head cliff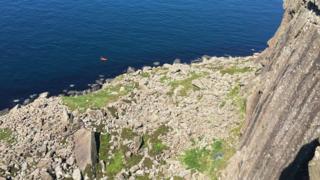 A woman has been rescued by the Coastguard after injuring her leg while rock climbing in County Antrim.
The emergency services were called to the scene at Fair Head on Wednesday afternoon.
The woman was about 40m up the cliff when she was lowered to safety by her climbing partner.
When the Coastguard helicopter arrived she was winched to safety and taken to the Royal Victoria Hospital.
Officers from the Police Service of Northern Ireland (PSNI) were involved in the rescue along with coastguard teams from Ballycastle and Coleraine.
A lifeboat was used to enable crew members to access the woman at the rock face.
She was then placed on a stretcher before she was winched to safety by the helicopter.