Pipe bombs made safe in west Belfast and Strabane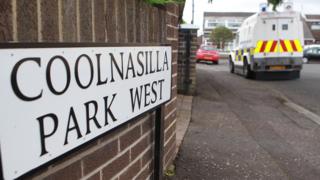 Viable pipe bombs have been made safe in west Belfast and Strabane in County Tyrone.
A number of residents were moved from their homes during a security alert in Belfast's Coolnasilla Park West which ended at about 07:55 BST on Sunday.
Det Insp Paul Rowland said: "Those who left this device in a residential area clearly have no regard for the people who live here."
Elsewhere, a viable pipe bomb was made safe in Strabane's Drumrallagh area.
Sinn Féin MLA Alex Maskey said the incident in west Belfast was part of "an ongoing attack on a particular family".
He said: "The family are convinced that this is an act of intimidation.
"I've been asking the PSNI to make to sure we have a thorough and speedy investigation into this incident to establish who is responsible and to get them behind bars."
In a separate incident, a number of people were moved from their homes in the Drumrallagh area of Strabane during a security alert on Sunday.
Police said a pipe bomb that was left near a vehicle was made safe by army explosives experts and taken away for further examination.
One resident said about 150 people lived on the street and children had been "cooped up" while the alert was under way.
She added: "Who was going to take the blame if that had hurt a child? There's a lot of children that play around here.
"I think people are disgusted at it - I'm disgusted at it."
The alert has now ended.