Banbridge building 'gutted' in second arson attack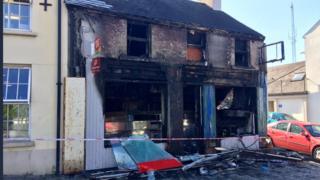 A fast food restaurant in Banbridge, County Down, has been "gutted" by arson, less than a fortnight after a deliberate fire at the same property.
The building at Church Square in the town centre houses a pizzeria and a first-floor flat.
Church Square was closed for a number of hours on Tuesday morning after fire crews were called to deal with a blaze at the pizzeria at about 04:10 BST.
On 5 July, the flat above the pizzeria was extensively damaged by arson.
The Fire and Rescue Service said they are treating the latest fire as suspicous and added that the whole building has been gutted.
'Alarming'
Church Square reopened to traffic shortly before 07:45 BST.
There were no reports of any injuries in either fire.
Group Commander Geoff Somerville told the BBC an investigation into the cause of the fire would take place later on Tuesday.
"We were alerted at about 04:10 this morning and we sent three appliances," he said.
"When we arrived we discovered a well-developed fire.
"It took us four slow hours to extinguish and there was significant damage to the property.
"We handed over to the PSNI at about 07:00 this morning."
Democratic Unionist Party MLA Carla Lockhart said it was "alarming to hear of a second attack in a short space of time on this premises".
She added: "I would utterly condemn this arson attack and would call on anyone who has information to come forward to the PSNI and report it."