Man rescued from west Belfast house fire by neighbours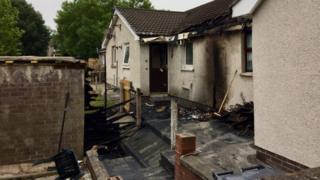 A man has been rescued from a house fire in west Belfast by neighbours, the Fire and Rescue Service has said.
The blaze broke out at the back of the property in Glasvery Gardens at about 02:45 BST on Wednesday morning, and caused extensive damage.
Neighbours helped the man to get out before the police arrived. He was not hurt but a police officer was treated at the scene for smoke inhalation.
A number of nearby homes were evacuated while firefighters put out the blaze.