Lisbellaw gas bottle boat explosion injures man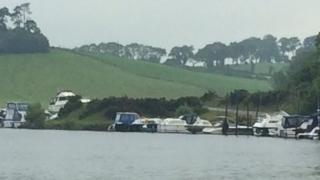 A man has been injured after a gas bottle exploded on a boat near Lisbellaw, County Fermanagh.
It is understood the injured man was pulled from the boat by another man who took him to hospital.
The police said that his injuries are not believed to be life-threatening.
The incident at Johnston Shore was reported at 10:46 BST on Wednesday. It is understood the explosion blasted the roof off the boat and that it is now submerged in the water.
The NI Fire Service (NIFRS) said: "A further search of the water was carried out for any other casualties.
"However, it has been confirmed that no-one else was on the boat at the time of the gas explosion.
"NIFRS would like to take this opportunity to remind boat owners of the need to ensure that any gas appliances on boats are installed and maintained by a qualified engineer and that carbon monoxide alarms are fitted on boats."