Shots fired at car mechanic business in Keady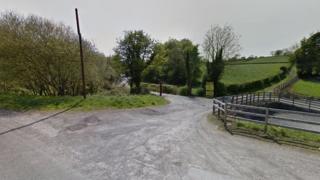 Police are investigating a shooting at a business premises in County Armagh.
Two men in a car were reported to have entered a vehicle servicing firm's grounds on the Annvale Road in Keady at about 17:25 BST on Friday.
One of the men got out of the white Hyundai car and fired two shots, and police said employees were left "very badly shaken".
Social Democratic and Labour Party councillor Thomas O'Hanlon said the shooting had been "reckless".
"The business is run by a very decent and hard-working family and they're completely and utterly disgusted by this attack," he added.
"Whoever they are, whatever their motivation to fire shots indiscriminately, we're lucky no-one was killed."
The car used by the gunmen was found burnt out on Dundrum Road near Tassagh in County Armagh about 20 minutes later.
Police are asking for anyone who may have seen the car between 14:00 and 17:45 on Friday afternoon to contact them.