Martin McGuinness memorial Mass held in Washington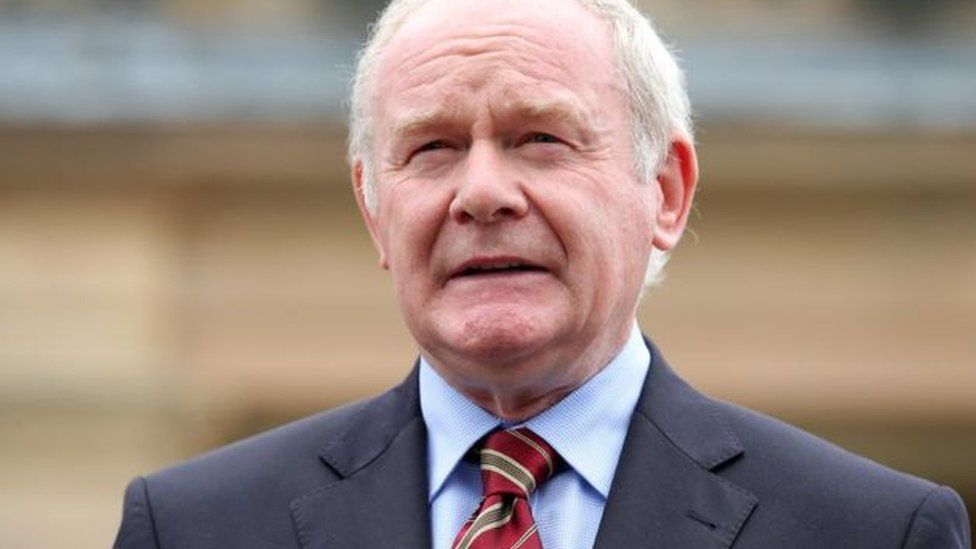 The sons of former Northern Ireland Deputy First Minister Martin McGuinness have attended a memorial service for him in the United States.
Fiachra and Emmett McGuinness joined Sinn Féin leader Gerry Adams for the Mass at St Peter's Catholic Church on Washington's Capitol Hill.
Mr McGuinness died in March aged 66 after a period of poor health.
The ceremony was organised by US Congressman Richie Neal - a close friend of Mr McGuinness for 25 years.
Mr Neal, who leads the Friends of Ireland in Congress group, delivered a eulogy during the service, which was followed by a reception.
After the event, Mr Adams held separated meetings with the Friends of Ireland group and officials from the US State Department, to brief them on the political deadlock at Stormont.
Northern Ireland's devolved government collapsed in January over a green energy scandal.
Since then a number of other issues, including disagreement over Irish language legislation and same sex marriage. have prevented the restoration of power-sharing between unionists and nationalists.
The Sinn Féin leader told the meetings his party was "fully committed to the restoration of the political institutions, but that this must be on a sustainable basis".
"The institutions have to work for everyone. They must also be based on respect, integrity and equality."
Mr Adams is due to meet Northern Ireland Secretary of State James Brokenshire on Tuesday evening.
Mr Brokenshire is also visiting Capitol Hill but did not attend the memorial service.
He has a series of engagements with political and business figures and is due to address the US Chamber of Commerce.
The secretary of state is expected to lobby for more investment for Northern Ireland post-Brexit.
Ahead of their meeting, Mr Adams said: "There is an imperative on his government to honour its obligations under the Good Friday Agreement, including in respect of [Troubles] legacy issues."