James Brokenshire considers options on NI talks deadlock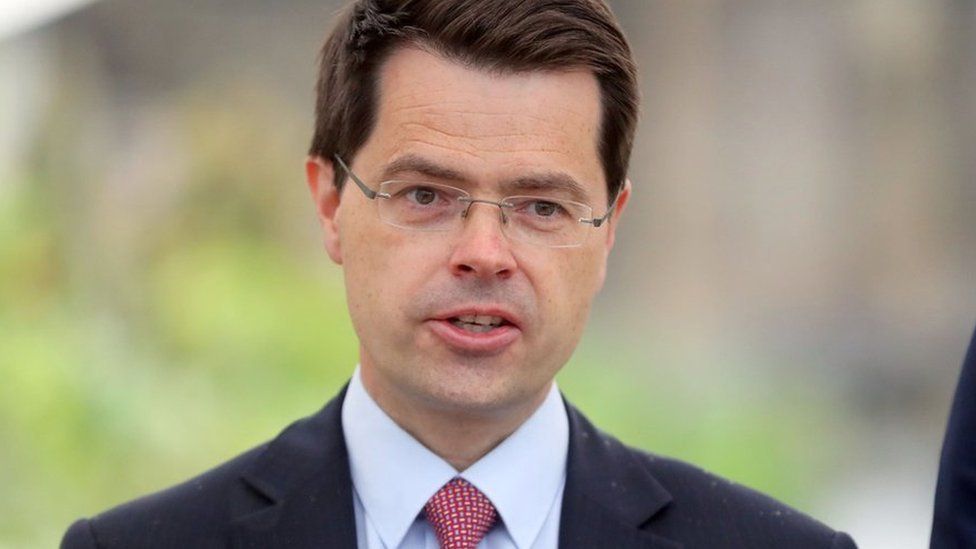 Northern Ireland Secretary James Brokenshire has said he is considering "a range of options" to inject fresh momentum into the talks on restoring power-sharing at Stormont.
NI has been without a functioning devolved government since January.
He said the UK government was "thinking carefully" about how it can "best support and create the right climate and context to get that positive outcome that I think people in Northern Ireland want to see, which is that executive getting back into position".
"We need to think carefully because we have made progress and it is important to underline that issues have been narrowed," he added.
"There are always risks around doing something different - as to whether that unpicks or undermines the progress that has already been achieved - but we are thinking carefully and thoughtfully as to what the next steps might need to be, how best to encourage that spirit of compromise and resolution.
"We are quietly doing that now."
In January, the late Martin McGuinness, of Sinn Féin, resigned in protest over the DUP's handling of an inquiry into the Renewable Heat Incentive (RHI) scheme.
His party had demanded that DUP leader Arlene Foster step aside temporarily to allow an investigation into the scheme she set up, but Mrs Foster refused.
Over the past six months, and during two elections at Stormont and Westminster, the two parties have remained deadlocked over a number of issues.
The most significant sticking points between the parties are disagreements over an Irish language act, same-sex marriage, and measures to deal with the legacy of Northern Ireland's Troubles.
Mr Brokenshire is visiting Washington and New York during his trip to the US.
He is meeting with representatives of the US administration, potential investors and US politicians.
The NI Secretary is also due to meet Sinn Féin leader Gerry Adams on Tuesday evening.
Mr Brokenshire said he was also encouraging US politicians to use their influence with the parties in Northern Ireland to push for a resolution to the talks.
"People here feel strongly and passionately about wanting to see that (Stormont) executive back in place and are saying that they will support and do all they can to encourage and promote that spirit of compromise and getting people to see the bigger picture on how far Northern Ireland has come," he said.
Mr Brokenshire has a series of engagements with political and business figures and is due to address the US Chamber of Commerce.
The secretary of state is expected to lobby for more investment for Northern Ireland post-Brexit.