Finucane inquiry bid granted new Supreme Court appeal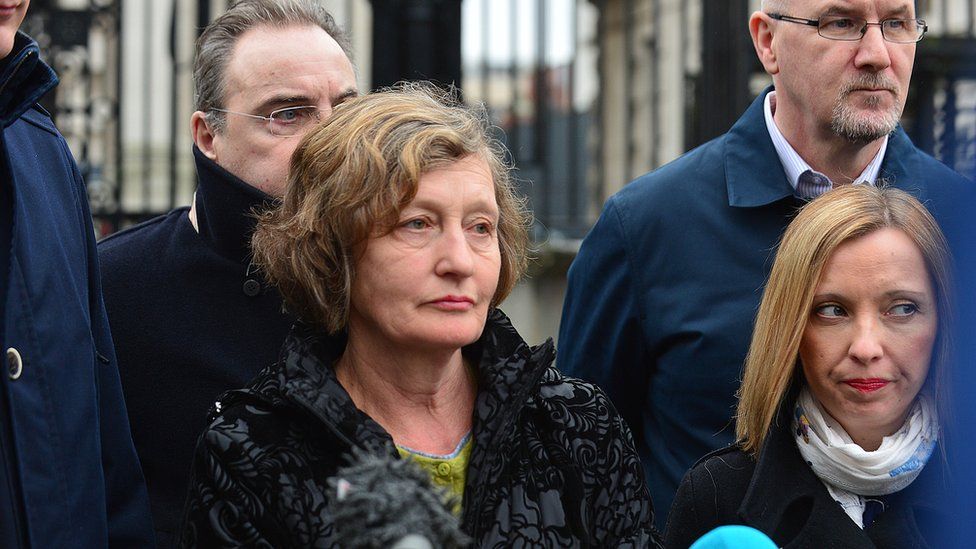 The widow of murdered solicitor Pat Finucane has been granted permission to take her bid for a public inquiry into his death to the UK's highest court.
The 39-year-old Catholic was shot by loyalist paramilitaries in front of his young family at their home in Belfast in February 1989.
Geraldine Finucane is challenging former Prime Minister David Cameron's decision not to hold a public inquiry.
He ordered an investigation by a senior lawyer instead.
The 2012 review by Sir Desmond de Silva QC, a former UN war crimes prosecutor, concluded there was "no overarching state conspiracy" in his death, but found "shocking" levels of state collusion involving the army, police and MI5.
Mrs Finucane described the De Silva report as a "whitewash" and has argued that a previous administration - Tony's Blair's Labour government - had promised a public inquiry would be held.
Earlier this year, her long-running legal challenge was dismissed by the Court of Appeal in Belfast - it ruled ministers were entitled to depart from the policies of previous governments.
Peter Madden, of Madden & Finucane Solicitors, said: "The only way that the full truth about Pat's murder can be firmly established, and the extent to which a policy of extra-judicial assassination of which Pat was a victim was authorised by government, is by a full transparent public inquiry where witnesses and documents are subject to intense scrutiny.
"We will seek to persuade the Supreme Court at the hearing of this appeal that David Cameron acted unlawfully in refusing a public inquiry and that the court should quash his decision."
Pat Finucane was a high-profile solicitor who lived and worked in Belfast, and he had represented clients who included convicted members of the Irish Republican Army (IRA).
His son John Finucane said the family was delighted with the court's "very significant" decision.
"Our argument has obviously resonated with the court that they feel these questions do warrant a full hearing and our family's position is very clear," he told BBC's Good Morning Ulster programme.
"We believe there remain many unanswered questions into the circumstances surrounding the murder of my father," he said.
Mr Finucane said despite the findings of the De Silva report, the family believed a pubic inquiry could find out more.
"The entire methodology of De Silva is something that should rightfully be criticised," he said.
"What we were promised by the British government, along with other families, was that if a judge found that there was enough evidence to warrant a public inquiry, the relevant government would conduct and enact that inquiry."
"The only case that sits on the shelf this that of my father.
"We feel that when you read De Silva it really raises more questions than putting a full stop on the circumstances surrounding his murder.
"All our energy will be in having this case prepared, probably some time next year."