NI paper review: Dissident Marine and car pollution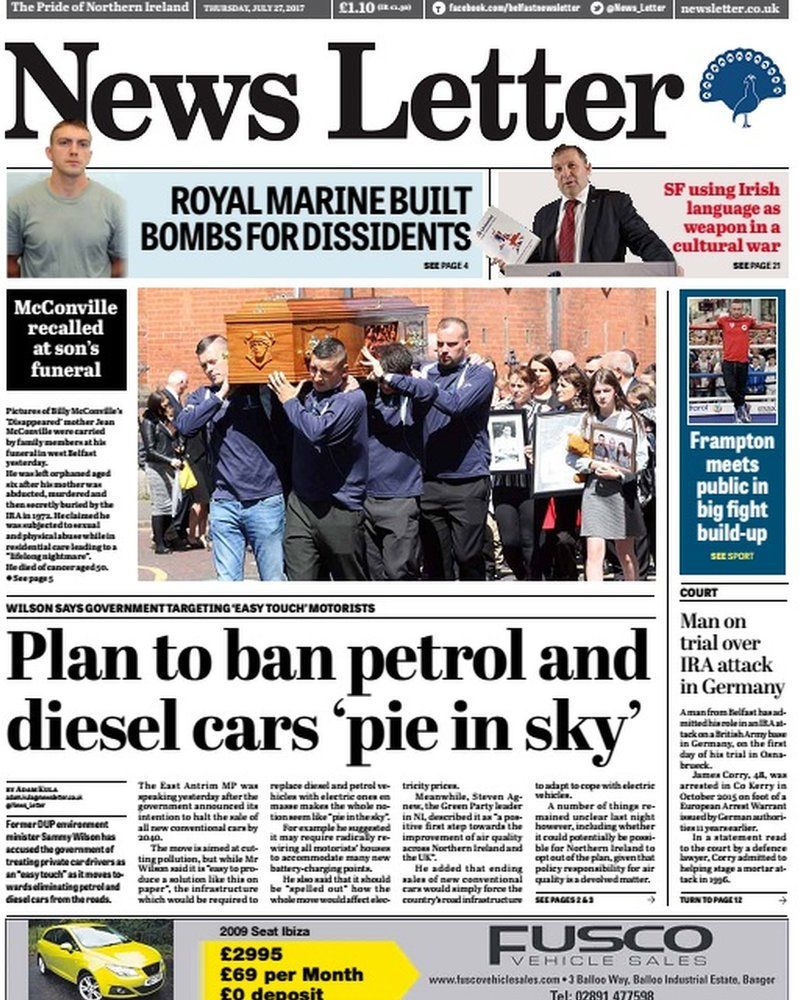 A political meeting, pollution and a dissident Marine all make the front pages on Thursday's papers.
A Royal Marine from County Antrim who made 14 pipe bombs to be used by dissidents against the police is the lead story in the Belfast Telegraph.
Ciarán Maxwell, from Larne, is being sentenced at the Old Bailey.
The court heard Maxwell had made a list of targets across Northern Ireland including a Territorial Army centre and Ballylumford Power Station.
The former environment minister said while it may look good on paper, the required infrastructure made it seem like "pie in the sky".
He also called for the government to detail the impact on electricity prices.
Gerry Adams and James Brokenshire held a meeting in Washington on Tuesday, reports the Irish News.
The Sinn Féin President and Secretary of State were both in the US on separate business.
Mr Adams told the paper he used the meeting to raise concerns about offensive material which was placed on Eleventh night bonfires.
A replica coffin bearing the image of Sinn Féin's Martin McGuinness, who died in March this year, was placed on a bonfire in east Belfast.
"I wanted to put it to him that this activity of a tiny minority would only be stopped if it became unacceptable in the public narrative and made illegal," said Mr Adams.
The Daily Mirror reports that a brother and his disabled sister were "lucky to escape injury" after a car smashed into their home in west Belfast.
The car hit the property on Whiterock Road between 22:00 and 23:00 BST on Tuesday.
One man was arrested at the scene while two others fled in the direction of Whiterock Grove.
Sinn Féin Councillor Steve Corr said: "We are very lucky we are not dealing with fatalities here.
"Anyone that know this area knows that (the woman) stands for long periods at her front door of what should be the sanctity of her home."
Barber shops in Belfast and Newtownabbey will close for a period on Thursday during the funeral of Dean McIlwaine, according to the Irish News.
The 22-year-old barber, who was due to open his own business, was last seen in the Carnmoney Road on Thursday 13 July.
Following an extensive search at Cave Hill in north Belfast on Saturday, it was confirmed by police that Dean's body had been found.
Gary Corrigan of Scholars & Scoundrels barber shop told the paper it would close for a time for the funeral.
"He was one of our - he was a member of the team," he said.
The funeral will take place at Carnmoney Presbyterian Church.
The Daily Mirror reports that a priest called on politicians to act on recommendations of an abuse inquiry during the funeral of one of those who gave evidence.
Billy McConville, 50, died on Monday following a battle with cancer.
In January, the HIA inquiry recommended payments to survivors of abuse at children's residential homes.
The son of IRA victim Jean McConville did not receive any compensation before his death.
During the funeral mass Fr Patrick McCafferty said: "The sufferings inflicted on these innocents must never be forgotten."