Council walk-out over McCann Enniskillen bomb comments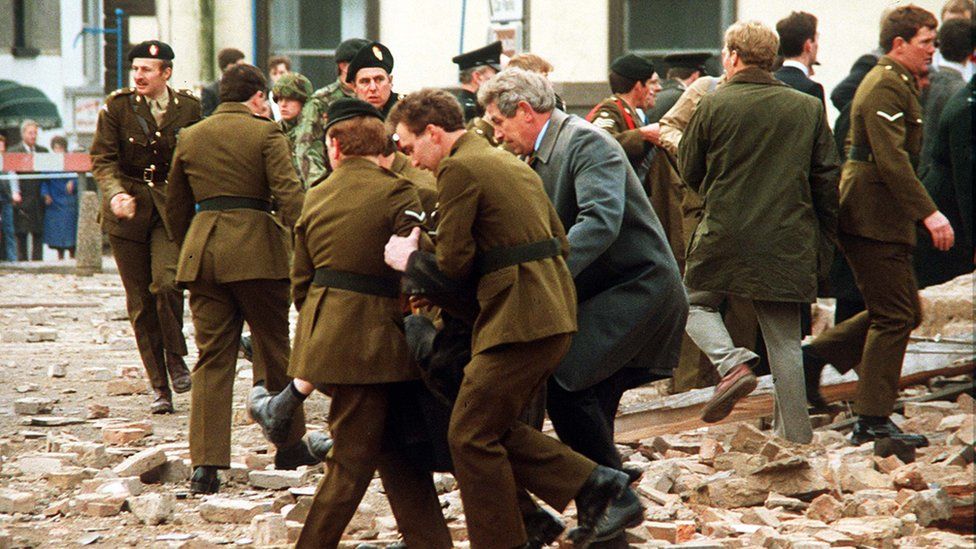 DUP, UUP and SDLP councillors have walked out of a council meeting in Fermanagh after the council's Sinn Féin chairman refused to withdraw comments he made about the Enniskillen bomb.
Eleven people died in the Remembrance Day attack.
A 12th victim died 13 years later having been left in a coma.
In the newspaper interview, Mr McCann - who became council chairman in June - also praised IRA man Seamus McElwaine, who was shot dead by the SAS in 1986.
Mr McCann said people like McElwaine "set the tone for a peaceful resolution to where we are going. That didn't happen by mistake.
"People like Seamus McElwaine and others played their part and we are now living in times of peace."
'Down this road of condemning'
Asked about the Enniskillen bombing, he said it was "a dreadful day".
However, when he was asked if he would condemn it, he said: "You see, you can go down this road of condemning this and commending that, and commending this and condemning that.
"But it was wrong and Sinn Féin came out at the time and said it was wrong. I am happy with that."
DUP Councillor Errol Thompson said: "We asked him to basically make an apology - he cut our mics and said he wasn't going to allow it.
"He is there as chairman of the council, he is there to represent everyone in the Fermanagh and Omagh district area, he should be leaving his party politics outside the door.
"Coming out with comments like that did nothing at all to build community relations.
"He had an opportunity this evening to redress that and he didn't."
SDLP Councillor Mary Garrity said there was "shouting across the room".
She added: "He [Mr McCann] was shouting at any member who wanted to talk and hitting the wooden gavel.
"It was a sad day in the chamber.
"The chairperson asked for respect for the chair, to which he was jeered and mocked for his hypocrisy."
Ulster Unionist Councillor Howard Thornton said: "The opportunity was afforded to Cllr McCann to apologise, but, maybe as expected, this was not forthcoming.
"Our thoughts this evening are with all innocent victims of terrorism both in County Fermanagh and further afield."