NI paper review: Political walk-out and Twitter hack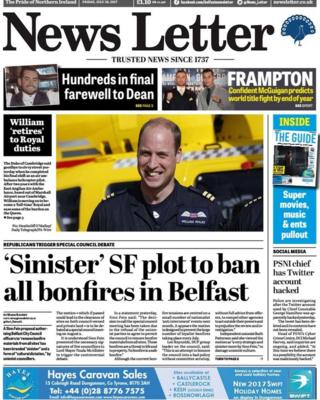 Political walk-outs, Twitter hacking and Brexit border concerns all feature in Friday's papers.
Business leaders have called for clarity over the future of free movement following Brexit, reports the Irish News.
The government has confirmed that the UK will leave the European Union in March 2019.
The border between Northern Ireland and the Republic of Ireland has yet to be addressed in discussions.
It is understood that a new system could be implemented, with EU nationals registering to work, the paper reports.
CBI director Angela McGowan spoke of the benefits EU workers bring to local businesses, including the agri-food and engineering sectors.
"Any new migration system should protect these benefits while restoring public confidence," she said.
"Businesses urgently need to know what a new system will look like - during transition and afterwards.".
Creative Carving
Also making the front page of the Irish News - bringing the dead back to life.
Woodcarver Sean Tarr can be seen carving a legend Celtic demigod into a Beech tree in Londonderry which was due to be chopped down.
The dead timber, located at the Belvoir Estate, now tells the story of Bran Mac Feabhail.
Also behind the project is sculptor Jim Hughes who said the woodworkers had received the backing of the Housing Executive.
"These trees are dying and in the past they would have been cut to a stump - you see them around the city," he said.
"So they thought this would be a better way of using the trees."
The Daily Mirror reports that Gardaí (Irish police) have been asked to interview a self-confessed IRA bomber in relation to the 1974 Birmingham pub bombings.
Michael Hayes, 69, recently told the BBC that he accepted "collective responsibility" for the bombing but would not reveal who planted the devices.
Twenty-one people died when two bombs were detonated in the city.
A pre-inquest review in Birmingham was told by lawyers for Coroner Sir Peter QC that "a request to the Irish Gardai to interview Mr Hayes" had been made.
Gardaí said: "While we do not discuss named individuals, we can confirm that Gardaí have received a request for assistance from the West Midlands Police, UK, through Interpol and we are facilitating their request."
'Sinister Move'
The News Letter reports that a Sinn Féin proposal enabling Belfast City Council officers to remove bonfire material from all sites has been criticised by unionist councillors.
The council has been called to debate the motion in a special meeting on 12 August.
DUP councillor Lee Reynolds told the paper: "This is an attempt to bound the council into a bad policy without committee scrutiny."
Independent unionist Ruth Patterson called it "a very strategic and sinister move by Sinn Féin".
In a statement Sinn Féin said the motion was lodged "due to the refusal of the unionist parties to agree to permit the council to remove bonfire materials from all sites".
A police investigation has been launched following a cyber hack on the Chief Constable's Twitter account, according to the News Letter.
George Hamilton's account was targeted on Thursday after a tweet was posted, containing a person's name followed by a jumble of letters.
It has since been deleted.
The PSNI's Head of Cyber Crime, DCI Michael Harvey said one line of enquiry is that the account was maliciously hacked.
The funeral of Dean McIlwaine also features in Friday's Daily Mirror.
The 22-year-old barber, who had been due to open his own business, was last seen in the Carnmoney Road on Thursday 13 July.
Following an extensive search at Cave Hill in north Belfast on Saturday, police confirmed that Dean's body had been found.
Mourners at Carnmoney Presbyterian Church in north Belfast heard that Dean "was soft-hearted in many ways".
Rev Dickinson said: "When you got to know him it was not hard to love him."
'Disgusting'
A political walk-out at Fermanagh and Omagh District council adorns the front page of the Belfast Telegraph.
The paper reports that DUP, UUP and SDLP councillors left a council meeting after a Sinn Féin representative refused to withdraw comments he made about the Remembrance Day bombing in Enniskillen in 1987.
In an interview with the Impartial Reporter earlier this month, Stephen McCann refused to condemn the IRA bombing.
Mr McCann - who became council chairman in June - also praised IRA man Seamus McElwaine, who was shot dead by the SAS in 1986.
SDLP John Coyle told the Telegraph the comments were "disgusting".
DUP councillors issued a statement stating that they were "encouraged" their walk-out was supported by "unionists and other nationalists".
The Ulster Unionist leader has called for police to conduct more patrols of Orange Halls in north Antrim, according to the Belfast Telegraph.
It comes after a number of halls were targeted in recent weeks, including a paint attack on Rosdernat Orange Hall near Cloughmills.
Robin Swann told the paper the police should be given "additional resources" to "stamp out mindless vandalism".
The police spokesperson said Orange Halls, churches and GAA clubs are part of "regular patrolling patterns of local policing teams, particularly during summer months".