Thousands at Stormont Antiques Roadshow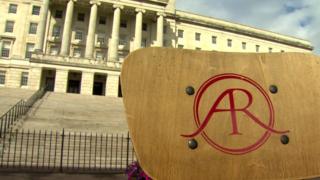 Treasure and heirlooms were on the agenda at Stormont this weekend as the BBC's Antiques Roadshow came to Belfast.
Thousands of people turned up on Saturday clutching artefacts they hold dear in the hope they were worth more than a few pounds.
Preparations took place throughout Friday.
They included the erection of tents to protect valuables against the Northern Irish weather.
It is the third time in the last 10 years the programme has come to Northern Ireland, after shows filmed at the Titanic drawing rooms in 2008 and Hillsborough Castle in 2014.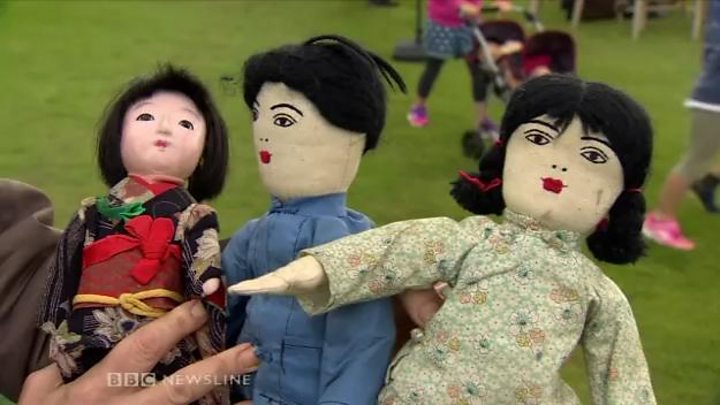 Among those having treasured items valued were father and son Stephen and Samuel Kane, who brought a violin.
"It was made in Paris in 1891, it found its way to London and then to County Armagh to my mum's roofspace and now my son plays it," Stephen said.
Jenny Robinson brought three dolls originally from Asia that belonged to her aunt.
"She was a missionary in China in the 1930s and they're very much part of my childhood memory and when my aunt died I got them," she said.
Presenter Fiona Bruce explained the appeal of the programme: "People like to think that whatever they have in their house that they might have inherited from their granny or has been gathering dust on the mantelpiece, might ne something either very valuable or significant.
"And they're right to be hopeful, because that happens an awful lot of the time."
But do the dreams of rags to riches often come true?
Expert Paul Atterbury said: "People come here with expectations and I'm afraid we're in the disappointment business.
"In the course of the day most of these people hopefully will have a great time, they might learn things they didn't know, but they won't go home any richer."
The programme will air later this year.