Cornerstone of grave thrown at Belfast police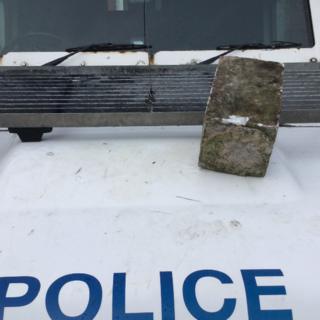 Youths in west Belfast have attacked a police vehicle with part of a gravestone.
Officers were patrolling in the area of Falls Park and the City Cemetery when the attack happened on Saturday night.
In a post on their Facebook page, police said someone had desecrated a grave and thrown "a large cornerstone at our vehicle".
They said they also found that sections of people's graves had been used to set a circle for a fire.
"Imagine how distressing this is for the family whose loved one isn't being allowed to rest in peace," said the PSNI post.
"These are sickening acts that show absolutely no respect for the local community."
'Respect cemeteries'
On 22 July, police were attacked in Falls Park after they tried to break up a crowd of more than 200 teenagers.
They said a number of the youths threw stones and bottles at police.
The rubber floor of the nearby play park was ripped up and pieces of it used as missiles to throw at police. Two teenage boys were arrested.
Police said that on the previous night a similar number of young people were gathered in the same area and a teenage girl was arrested.
In their Facebook post about Saturday night's attack, police said a smaller number of youths - about 50 to 100 - were in Falls Park.
"On the large part the kids were all very well behaved and chatted to police and council officers with no problems," said the post.
"They stayed out of the play park and on the whole left the park at closing time. There were very very few signs of alcohol being consumed."
Police said the attack at the City Cemetery involved about five youths.
"Why do you even feel the need to be in the cemetery in the first place?" the post asked.
"Cemeteries should be places of quietness, peace and RESPECT!"