Will snipes race again in Fermanagh?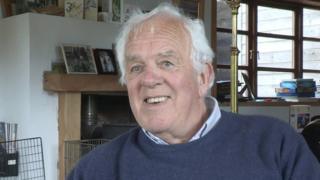 Half a century ago, the waters of Lough Erne in County Fermanagh were the weekend playground of the well-to-do. Their craft of choice was the snipe.
It's a time Johnny Madden remembers fondly.
"At the time that we started having snipe on Lough Erne, it was the biggest sailing boat class in the world," he said.
"They're very suitable for Lough Erne, because they had a good solid build so you could run them up on the stony shore and they had centre boards rather than keels, and Lough Erne, particularly the upper lake, being quite shallow, that was very good."
It was Johnny's father, at Hilton Park in Clones, County Monaghan, who first bought a snipe to use on the Upper Lough in the early 1950s.
Where he led, others followed, and soon weekend racing became a regular fixture in the calendar.
"They were all pre-war boats, these, built in the late 1930s," he added.
"But they were very well-built boats, good to race, so if enough people turned up, we would race.
"Lord Erne put a buoy out at the end of Trial Bay, which we used to sail down and round. There was a natural buoy the other way in Inis Rath, which we used to sail round, and it was just - it was good fun."
But that was the 1950s and early 1960s.
As lives changed and people moved away, snipe-racing fell out of fashion in Fermanagh.
The boats were thought to have been long-lost, until Fred Ternan from Lough Erne Heritage had a chance conversation.
"I wasn't aware that snipes had sailed on Lough Erne until about two years ago, when I saw two snipes upside down in the boathouse at Crom," he said.
"Then the late Lord Erne mentioned to me that he had sailed in snipes at Crom.
"When we set up Lough Erne Heritage, I was contacted by Lord Belmore who said he had a boat in storage which was also a snipe."
All of Fred's finds need a lot of TLC, but he has high hopes for them.
"All the boats that remain, and we know of four so far, they are restorable," he said.
"Lough Erne has a great history of sailing, going right back to the 1800s and possibly before.
"Not only did the people from the big houses sail large boats, but people around the lough used oar and sail to get about.
"So it may well be that, after a break of 50 years or so, we get snipe sailing back on Lough Erne.
"In fact, the snipe is very suitable; you only have the two sails to deal with, so it would be a good boat for many people to begin to sail in again."
And that would be music to Johnny Madden's ears.
"I am delighted that Lough Erne Heritage are interested in the snipe first of all, and I very much hope they will be displayed somewhere," he said.
"I don't particularly mind whether they go on the water or not. I just think they're such beautiful things and I'd love to see three or four of them together, somewhere."
One of the boats will be on display during the Lough Erne Heritage Weekend at Enniskillen Library this weekend.