NI newspaper review: Surviving Dunkirk and £500k up in smoke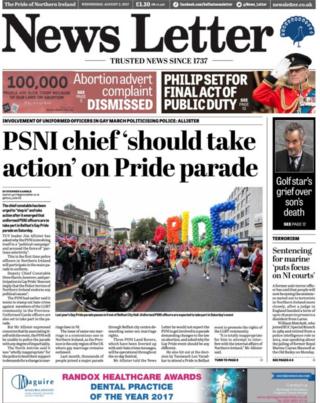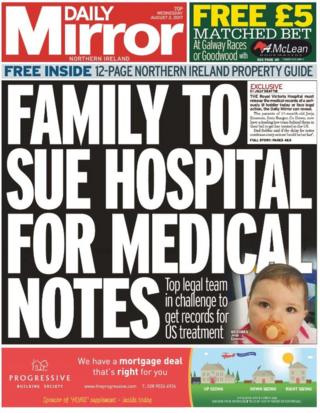 A decision by Taoiseach (Irish Prime Minister) Leo Varadkar to attend a gay pride event in Belfast sparks unionist criticism in Wednesday's papers.
Mr Varadkar has parked his "rainbow-coloured tank" on the DUP's lawn, claims John Manley in the Irish News.
The taoiseach has vowed to press for same-sex marriage in Northern Ireland, which is opposed by the DUP.
An ex-DUP minister says unionists will "find it odd if he starts to interfere" in a social issue in Northern Ireland.
Nelson McCausland told the paper that, as leader of the Republic of Ireland, Mr Varadkar's "responsibilities are south of the border".
His remarks are echoed in the News Letter by Traditional Unionist Voice leader, Jim Allister.
However, Mr Allister's main concern is the role that the Police Service of Northern Ireland will play in Saturday's Belfast Pride parade.
For the first time, PSNI officers are being allowed to take part in the parade, in their uniforms.
The TUV leader accused the force of involving itself in a "political campaign" and said the move was "wholly inappropriate".
However, Deputy Chief Constable Drew Harris said officers' participation in the parade "does not imply that the PSNI endorse any political cause".
'Violent Belfast'
Does our fondness for parades and street demonstrations mean Northern Ireland's tourism industry is cruising for a bruising?
The Irish News headline says cruise ship tourists were warned about "violent" Belfast when they docked in the city in June.
P&O Azura passengers were given a leaflet advising them of the risk of terrorist attacks in Europe and of isolated violence at "demonstrations".
The paper says tourism officials have complained to the cruise operator that the leaflet is "unnecessarily alarmist".
The Daily Mirror leads with a family's battle to access their seriously ill child's medical records so they can take her to the US for treatment.
Jorja Emerson, who is 17 months old, has severe epilepsy and her parents want her to be assessed by doctors in Miami.
Her parents have threatened to begin legal action against the Royal Victoria Hospital in Belfast, claiming it failed to release her files after six requests.
Her father, Robbie, told the paper: "I'd like to know what is being prioritised in the RVH over the life and possible death of my little girl."
Elsewhere in emergency services news, more than £500,000 of public money has been going up in smoke.
The Belfast Telegraph has been totting up the cost of tackling the almost 2,000 wildfires that broke out across Northern Ireland in the first six months of this year.
One gorse fire alone in County Tyrone cost more than £40,000 to put out.
An assistant chief fire officer said the wildfire bill was putting additional strain "on an already challenging financial environment".
Durkirk evacuation
The paper also reports how firefighters were called to a County Londonderry cinema on Tuesday evening, when film fans got a bit more action than they were expecting.
A speaker is believed to have caught fire at Coleraine's Jet Centre, during a screening of the World War Two epic, Dunkirk.
Customers beat a hasty retreat to the exits as firefighters dealt with what they described as a "minor" blaze.
The Belfast Telegraph also carries a real-life Dunkirk tale of survival and friendship, starring two young soldiers from Belfast.
Writing in the paper, George Lamour recounts how his father, a Shankill Road Protestant, and his father's friend, a west Belfast Catholic, saved each other from drowning in the "icy sea-of-defeat at Dunkirk".
He described how they survived the 1940 evacuation by "holding on to each other in the lashing waves" while all around them was the "chaos of a dejected army in retreat".
Mr Lamour said the two men made it back to Belfast, and remained lifelong friends, despite the sectarian tensions of the Troubles.
He added the pair "would never forget that they owed their lives to each other, and wouldn't allow petty sectarian bigotry to spoil something so important".